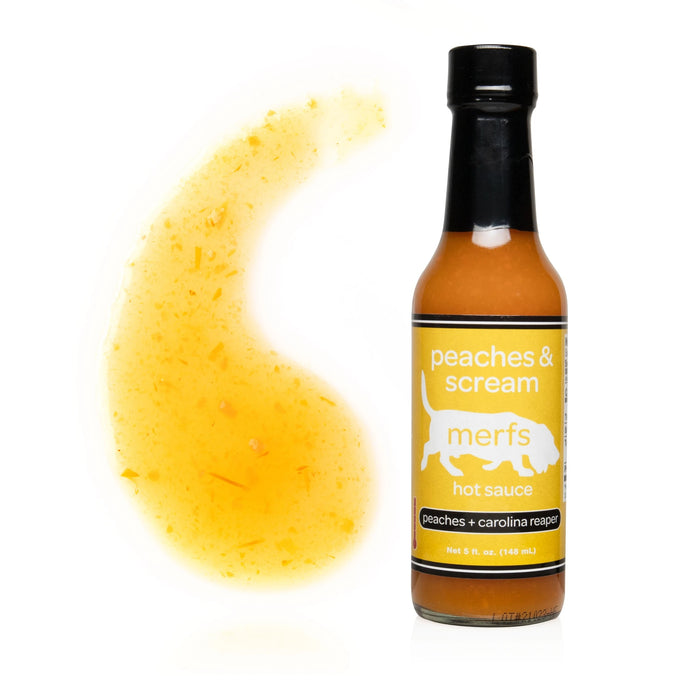 Merfs Peaches & Scream Hot Sauce (Peach & Carolina Reaper)
Merfs' very first hot sauce, reborn and relaunched as our super-hot. It's fruity, lemony, and VERY spicy. It's got all the brightness and heat of the Carolina reaper, the spiciest chili in the world right now. 5 oz bottle.

HEAT LEVEL: Super Hot 10/10
Pairings: Seafood. Grilled Cheese. Fried chicken. Indian Cuisine. Use to make fruity salsa.
Dietary Notes: Vegan, Vegetarian, Gluten free, Preservative Free. Sugar free. 
Ingredients: carrots, peaches, water, lemon juice, white vinegar, mango, monkfruit sweetener, salt, habanero, carolina reaper

How long does the hot sauce last?
It's good unopened for 2 years, and after opening 1 year.
Does the hot sauce need to be refrigerated?
Our hot sauces are all natural and preservative free, and therefore need to be stored properly. They do not require refrigeration, but need to be kept in a cool, dark place that is 72*F or less.