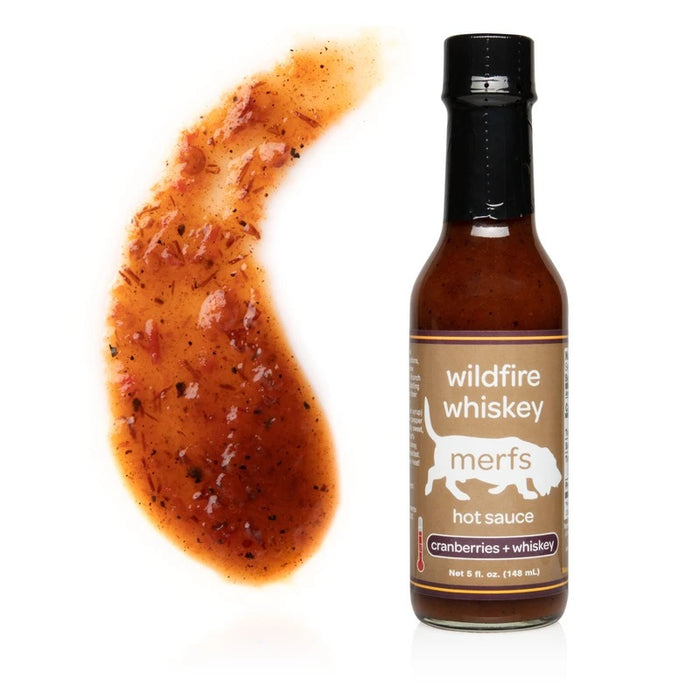 Merfs Wildfire Whiskey Hot Sauce (Cranberries & Whiskey)
A collaboration with Branch and Barrel Distillery in Centennial, Colorado. Merfs has paired their 3-way aged whiskey (cinnamon, vanilla, and maple syrup) with cranberries and wiri wiri pepper mash. The result is a perfectly sweet, spicy and fruity hot sauce that's delicious when paired with turkey, chicken and waffles, and breakfast. Enjoy the flavor and savor the heat! 5 oz bottle.

Heat Level: 7/10
Ingredients: water, dried cranberries (cranberries, sugar), wiri wiri puree (wiri wiri peppers, salt), white vinegar, whiskey, salt, and maple syrup. CONTAINS ALCOHOL.
Dietary Notes: Vegan, Vegetarian
How long does the hot sauce last?
It's good unopened for 2 years, and after opening 1 year.
Does the hot sauce need to be refrigerated?
Our hot sauces are all natural and preservative free, and therefore need to be stored properly. They do not require refrigeration, but need to be kept in a cool, dark place that is 72*F or less.